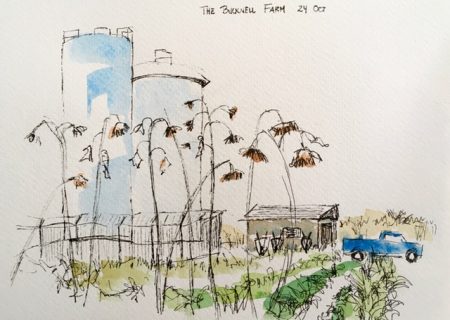 The Bucknell University Farm actively supports the University's mission by promoting: 1) Academics; 2) Sustainability; 3) Community Engagement; and 4) Health and Wellness. 
The Bucknell University Farm grew out of the success of the Lewisburg Community Garden, the growing interest in food as an academic topic, and the success of college and university farms nationwide.  Starting in 2015, Mark Spiro (Associate Professor – Biology) and Kyle Bray (Assistant Director of Service-Learning) established an ad-hoc committee of faculty, staff and students to study the potential of an on-campus farm to meet  university goals. In early 2018, President John Bravman and Provost Barbara Altmann provided funds to support a Farm and Garden Coordinator within the Office of Civic Engagement to oversee both the Lewisburg Community Garden and the Bucknell University Farm.  Jen Schneidman Partica joined the team in March 2018.
Milestones in the development of the Bucknell University Farm
February 2018 – Five-acre parcel at the southwest end of campus approved as farm site.
March 2018 – Jen Schneidman Partica joins the team as the full time Farm and Garden Coordinator
May 2018 – Advisory Board formed consisting of faculty, staff and students from across campus.)
Spring/Summer 2018 – Prepped fields for vegetable production and established basic infrastructure including water lines, tool shed, walking paths.
Fall 2018 – Appointment of the first Farm Faculty Director – Mark Spiro
Fall 2018 – Student groups, orientation programs and classes, representing departments from across the university, begin using the farm.
October 17, 2018 – Farm Sustainability Festival and Ground-Breaking Ceremony with President Bravman.Over 200 students, faculty, staff and community members attended.
Fall 2019 – Began donating produce to B-Eats, a new student food pantry.
Fall 2019 – Completed Farm Soil Conservation Plan with Union County office of the Natural Resources Conservation Service
Fall 2019 – Developed Farm Fellows peer mentorship program. The first farm fellows were Sofia Adams ('21), Theresa Dollar ('22), and Bitseat Getaneh ('22).
Winter 2020 – Construction of a high-tunnel passive greenhouse to allow for four-season cultivation of vegetables, fruits and herbs.
Coming Soon
Currently collaborating with Bucknell Dining and Finance to develop food safety and business plans.
Learn more about how we got started: